A quote from Josh Billing says, "A dog is the only thing on earth that loves you more than you love yourself". That is true! A dog is a man's best friend. So, let's repay his love by taking care of our dog. What I did was gave him a bath everyday, towel dry and dog food. In this giveaway are the tools on how to give your pets or dog a good grooming. Join and enter for this giveaway.
Deliciously Savvy is hosting a giveaway for all the pet lovers out there! There will be 2 winners in this giveaway (TRV of $80) Enter Today & Good luck!
Sponsored By:
&

Hosted By: Deliciously Savvy
Co-Hosted By:
PLUS a Big Thank You to all blogs that are helping to promote! We can never do it without each and every one of you!
The Details:
2 Lucky Winners For This Giveaway!
1st Place Winner wins a Pair of HandsOn Bath and Grooming Gloves ($25 RV) PLUS a Pet Giftbox (for either a cat or dog) full of treats, toys and fabulous products for your furry BFF ($30 RV).
2nd Place Winner will receive a Pair of the HandsOn Bath and Grooming Gloves ($25 RV)!

HandOn Bathing / Grooming Gloves (1st & 2nd Place Winner $50 TRV)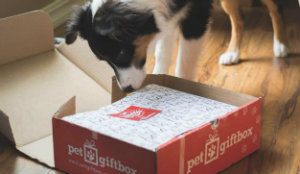 Pet GiftBox ~ Subscription Box for Cats or Dogs! Customize it to fit your needs!
(1st Place Winner Only $30 RV)
And Now The Giveaway!

Giveaway Dates: 01/04/2017 9PM EST until 01/26/2017 11:59PM EST
Entrants must be 18 years old to enter and giveaway is open to US residents only.
Any Questions Email Me At mcushing7 (at) hotmail (dot) com.
This giveaway is in no way endorsed, affiliated or associated with Facebook,
Twitter or any other Social Media Networking Site. This giveaway is valid only
in the United States. Entrants must be 18+ years of age to enter.
This giveaway will end at 11:59PM (EST) on 01/26/2017.
Good Luck! Enter Below
Also we all "love it if you like us" on Facebook!
By Supporting Our Blogs Via Social Media You Are Helping Us To Provide
Fabulous Prizes For Amazing Future Giveaways!
Good Luck & Thank You!
Deliciously Savvy did not receive any form of compensation for this giveaway other than receiving this above items in order to facilitate my review. Once winner is selected via the Giveaway Tools process, the product will be shipped. Winner has 48 hours to respond or another winner will be chosen. No other blog associated with this giveaway is responsible for the product shipment. The Various Sponsors Above will be providing the prizes above to the winners. Thank You for stopping by! Any Questions or Concerns email me at mcushing7 (at) hotmail (dot) com.
If you have any questions or are a brand/company and would like to work with Deliciously Savvy please contact us here.
As Always…. Thank You For Visiting Deliciously Savvy Today and Leave Some Comment Love While You Are Here!